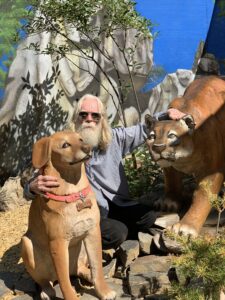 The Idyllwild Town Monument flocks tourists who line up for photos. Sculptor David Roy adds a new animal each year to his beloved Town Monument, "Harmony."
David started at Disney and other movie studios, emerging with a unique forte: chainsaw carving. His finely textured animal carvings are done entirely by chainsaw, except for the eyes, claw points and teeth. Many locals proudly own his art, shown in these pictures. You can, too.
Are you an artist? Add yourself to the Artist Guide!

It's about Love.

Our village is about people helping and caring for each other like family. For all the beauty that surrounds us, it is the people who are even more beautiful. There is a vibe. Those who sense it are drawn here to their long lost tribe.  It is love.  We are one. We are blessed.

Love Always,
The Call of the
Idyllwild